Share this URL: https://safecycle2021.peatix.com/
Event is FINISHED
SafeCycle/Safe Coding Programme 2021 (for kids aged 3-12)
The Safe Cycle Academy is back to educate kids on the safety aspect of cycling. The 2021 edition is supported by Safe Cycling Task Force (SCTF), and includes an additional Safe Online Coding programme (Graphite Academy) targeted exclusively for your kids (aged 3-12)!

Our team of experienced Educators will engage your little ones in an interactive session designed to improve their skills and understanding of the challenges of safe cycling (Zone 1) and safe coding (Zone 2) ; the ultimate aim, to keep them safe both offline and online!
Participants will be put through a series of skill-based courses and short briefs with videos, ending with a quiz where participants walked away with prizes such as safety helmets and coding workshops programmes. Each child will also receive a set of reflective safety snap bands, colouring book & crayons, safe cycle badge and a certificate of participation, certifying them as a Super Safe Junior Cyclist!
Zone 1 : Safe Cycle Programme
What your children will learn during the Safe Cycling programme?

Safety Briefing

A short video clip will be screened at the start of the clinic, where participants will learn the do's and don'ts of cycling. It will be followed up with a briefing on how to do a safety check on a bicycle before riding.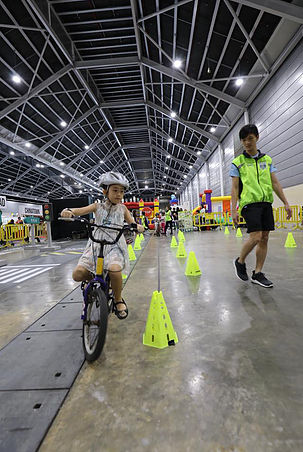 Two courses will be introduced where one learns to ride with precision and skill.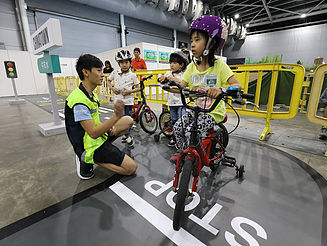 Children are taught to observe basic road signs and the inherent challenges on public roads.

Zone 2: Safe Coding Programme
What your kids will be learning during the safe coding programme?

Station 1: Road safety with mTiny (A screenless coding experience)
Participants will navigate the map given to them with specific coding cards. They will be required to piece together the coding cards to programme the robot to turn left and right before crossing the roads.

Station 2: Road Safety with Microbit (traffic light system) & Password Safety with Scratch
Participants will be tasked to code traffic light system for this particular challenge.
Students will be tasked to open a box with a series of passwords and clues for them to figure it out. The challenge will remind them of the importance of password safety.

Venue: Suntec Singapore Convention & Exhibition Centre, Hall 403
Date: 30 April - 2 May 2021
Available time slots: 12pm-1.30pm, 1.30pm-3.00pm, 3.00pm-4.30pm, 4.30pm-6.00pm, 6.00pm-7.30pm
Duration: approx. 1 hour 30 Minutes
There are only 5 slots per day, each slot 24 students who are broken up into groups of 8.
Upon registration, please pick your

preferred day and time slot

.
On the day of the event,parents are to bring their kids to our registration booth at least 15 minutes before the programme starts so that you can collect your kids' programme badge upon showing your e-ticket from Peatix at our registration booth.

Note: All kids are to wear shoes during the programme for safety

Get ready for your kids to become our next #SuperCyclist!
Read more
Updates
The event description was updated. Diff#964761

2021-03-28 05:36:34
More updates
Apr 30
-
May 2, 2021
[ Fri ] - [ Sun ]
12:00 PM
-
8:00 PM
SGT
Add to Calendar
Venue

Suntec Convention Hall 403
Tickets

30 April: 12.00pm-1.30pm

SOLD OUT

$38.00

30 April: 1.30pm-3.00pm

SOLD OUT

$38.00

30 April: 3.00pm-4.30pm

SOLD OUT

$38.00

30 April: 4.30pm-6.00pm

SOLD OUT

$38.00

30 April: 6.00pm-7.30pm

SOLD OUT

$38.00

1 May: 12.00pm-1.30pm

SOLD OUT

$38.00

1 May: 1.30pm-3.00pm

SOLD OUT

$38.00

1 May: 3.00pm-4.30pm

SOLD OUT

$38.00

1 May: 4.30pm-6.00pm

SOLD OUT

$38.00

1 May: 6.00pm-7.30pm

SOLD OUT

$38.00

2 May: 12.00pm-1.30pm

SOLD OUT

$38.00

2 May: 1.30pm-3.00pm

SOLD OUT

$38.00

2 May: 3.00pm-4.30pm

SOLD OUT

$38.00

2 May: 4.30pm-6.00pm

SOLD OUT

$38.00

2 May: 6.00pm-7.30pm

SOLD OUT

$38.00
Venue Address

1 Raffles Blvd, Singapore 039593

Singapore
Organizer